Description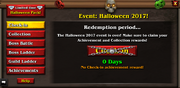 Special Events are seasonal phenomenons that encourage Player participation and with incentives such as:
List of Events
All known past and present events (including mini-Events) are listed chronologically below:
Events 2014
Events 2015
Events 2016
Events 2017
Events 2018
End-note
All events before Midsummer Bonfire (June 2015) are NOT Special Events, but rather "Mini-Events." They do not boast the Check-in, Guild Ladder, and other options that subsequent Special Events possessed. However, they offered Cosmetics and few offered Collections.
Additionally, the recent Halloween 2017 Special Event is not a full Special Event either. It was much shorter than a full event — having an "experimental 1-week event system, with reduced requirements on Collection, Check-in, and Overall Medals." It is not currently known if future Special Events will follow this new model or the traditional model.