Added on 13th Aug 2015
Share your recruitment link with friends to earn recruiter points
Get rewards when you achieve recruitment milestones (10,25,50,100,250,500...)
Points gained for referrals leveling Lvl 5: 1, lvl 10: 5, lvl 15: 10, lvl 20: 20 (This is accumulative, so one person get level 20 is 1+5+10+20=36 (You can also gain points if the person buys diamonds) it claims but i think this isn't true so can't confirm this.
Note that the milestone aren't reset to 0 after claiming so once you get the first milestone you have 10 still and then only need 15 more for the 25.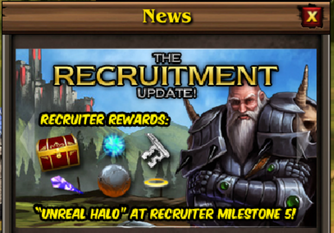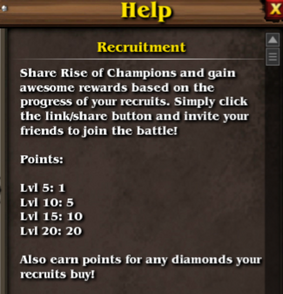 Community content is available under
CC-BY-SA
unless otherwise noted.