Description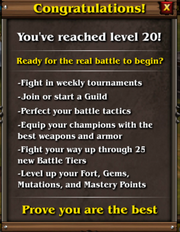 In Rise of Champions, Players can advanced through a total of twenty (20) levels by gaining Experience. Players will gradually acquire levels through game-play. Levels, especially the early ones, serve as a tutorial and progression checklist, ensuring that the Player learns certain mechanics of the game before advancing onward.
Advancing to level 20 ensures that the Player has the basics of the game learned. The Player can then participate in mid and late game mechanics, such as Level 20 Battle Tiers and Tournaments.
Leveling also grants skill and attribute points, which the Player may use to strengthen their Champions.
Milestones
The table below shows a column of the twenty levels, the experience needed to advance to the next level, the total experience acquired at the level, and aspects of the game that are unlocked at the level.
| Level | Experience Needed | Total Experience | Unlocks |
| --- | --- | --- | --- |
| 1 | 50 | 0 | Tutorial |
| 2 | 100 | 50 | Inventory, News, Status, Community, Guild, Daily Task, Battle and Options |
| 3 | 200 | 150 | Party, Second (2nd) Champion, Keep |
| 4 | 400 | 350 | Treasure, Skills, Basic Expeditions |
| 5 | 1,000 | 750 | TORCH Codes, Special Events participation, Tournament, Progress, Daily Rewards, Barracks, Third (3rd) Champion, Single Match, Progress to Arena Tiers, Skulls, Surrendering, Passing Turn, Plundering. |
| 6 | 2,000 | 1,750 | Blacksmith, Shop, Bazaar |
| 7 | 4,000 | 3,750 | Story, Tickets |
| 8 | 7,000 | 7,750 | Academy, Crafting (Rune Crafting and Re-enchanting) |
| 9 | 11,000 | 14,750 | |
| 10 | 16,000 | 25,750 | Brawl, Arena, Grudge, Battle Tiers (PvP), Elite Expeditions |
| 11 | 22,000 | 41,750 | Crafting (Gems) |
| 12 | 29,000 | 63,750 | Bank |
| 13 | 37,000 | 92,750 | |
| 14 | 46,000 | 129,750 | |
| 15 | 56,000 | 175,750 | Legendary Expeditions |
| 16 | 67,000 | 231,750 | |
| 17 | 79,000 | 298,750 | Crafting (Two (2) - Slotted Equipment) |
| 18 | 92,000 | 377,750 | |
| 19 | 106,000 | 469,750 | |
| 20 | 121,000* | 575,750 | Level 20 Battle Tiers, Sanctum, Tournament |