Essence Refinery is unlocked when the Sanctum reaches Level 12. It allows the Player to convert their Magical Essence to Refined Essence.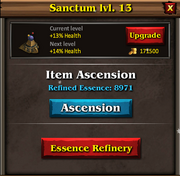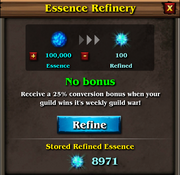 The Essence Refinery page can be accessed through the "Essence Refinery" button at the bottom of the Sanctum panel.
The top portion of the page has three distinct sections:
An exchange graphic that shows how much Refined Essence will be exchanged for the amount of Magical Essence. The arrow keys allow this rate to be lowered or raised.
A Bonus section that informs whether or not the Player's Guild has won it's last Guild Warfare. If true, the Player is entitled to a +25% Bonus Refined Essence through the conversion.
A blue "Refine" button that confirms the refinement. The rate in the exchange graphic will be used and the amount of Refined Essence stated will be exchanged for the Player's Magical Essence. The bonus will be applied, if applicable.
The bottom portion of the page shows the Player's stored Refined Essence
The Essence Refinery offers three proportional exchange rates of 1000 Magical Essence : 1 Refined Essence at increasing amounts. The bonus depending on the Player's Guild Warfare is also accounted for in these exchange rates. Note that the exchange graphic does not take into account the bonus; the game, however, assures the Player that the "bonus is included in the total."
The three exchange rates are shown in the chart below, in increasing order, with or without the bonus, along with the corresponding Exchange Graphic:
Rate
Without Bonus
With Bonus
Exchange Graphic
1
100,000 Magical Essence :
100 Refined Essence
100,000 Magical Essence :
125 Refined Essence

2
1,000,000 Magical Essence :
1,000 Refined Essence
1,000,000 Magical Essence :
1,250 Refined Essence

3
10,000,000 Magical Essence :
10,000 Refined Essence
10,000,000 Magical Essence :
12,500 Refined Essence
Essence Refinery was released along with Item Ascension on March 29th, 2015, through patch v.1034
Essence Refinery used to be unlocked when the Sanctum reached level 5. This requirement increased to level 12 on April 12th, 2015, through patch v.1035.
Community content is available under
CC-BY-SA
unless otherwise noted.