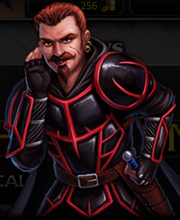 Damien
is an aid and helper of the player.
Character
Edit
Damien is an adventurer, who likes expeditions and quests to complete. He shows the player the secrets of treasures and expeditions, as well as he tests his skills in the battlefield.
Damien uses the rogue class and fights with dagger. He is placed in the melee row.
Damien appears in the following battle:
Damien can also be visited to buy valuable diamonds from.