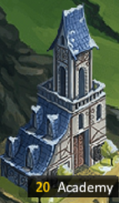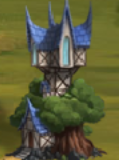 Unlocking at Player level 8, the Academy can be built through the Keep and "increases the abilities of your magic and magical items". It gives alternating boosts of +2% per level to Magic and Stamina, capping at level 20 with +20% Magic and +20% Stamina.
At Academy level 5, Mystery Boxes can be unlocked using Keys.
Mutations can also be viewed, changed and evolved here.
Cost To Upgrade
| Level | Cost |
| --- | --- |
| 1 | 45 |
| 2 | 360 |
| 3 | 1,215 |
| 4 | 2,880 |
| 5 | 5,625 |
| 6 | 9,720 |
| 7 | 15,435 |
| 8 | 23,040 |
| 9 | 32,805 |
| 10 | 45,000 |
| 11 | 59,895 |
| 12 | 77,760 |
| 13 | 98,865 |
| 14 | 123,480 |
| 15 | 151,875 |
| 16 | 184,320 |
| 17 | 221,085 |
| 18 | 262,440 |
| 19 | 308,655 |
| 20 | 360,000 |
| Total Cost | 1,984,500 |